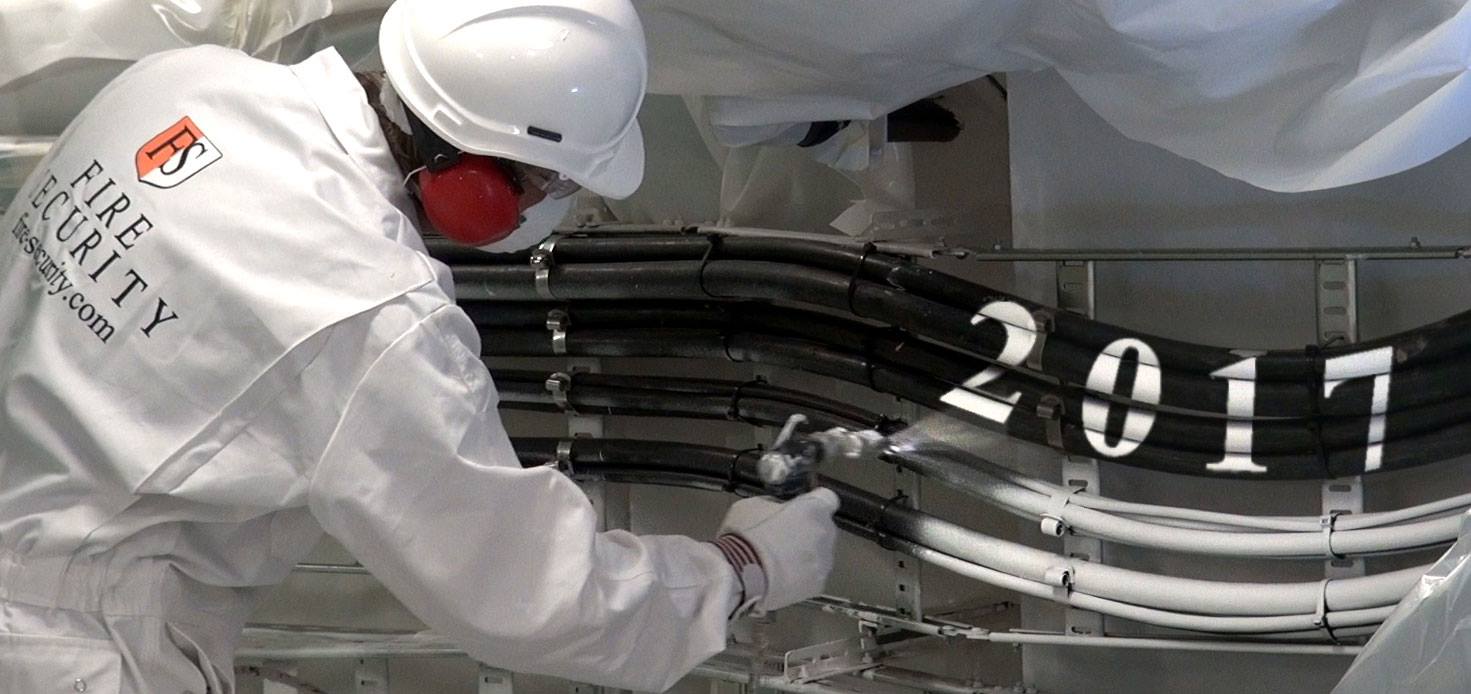 2016 was quite slow in the oil and gas sector, 2017 looks more promising.
ASIA-PACIFIC REGION
January 6: Fire Security team enjoys a well-deserved barbeque after finishing yet another successful fireproofing project at Hanil Cement in South-Korea.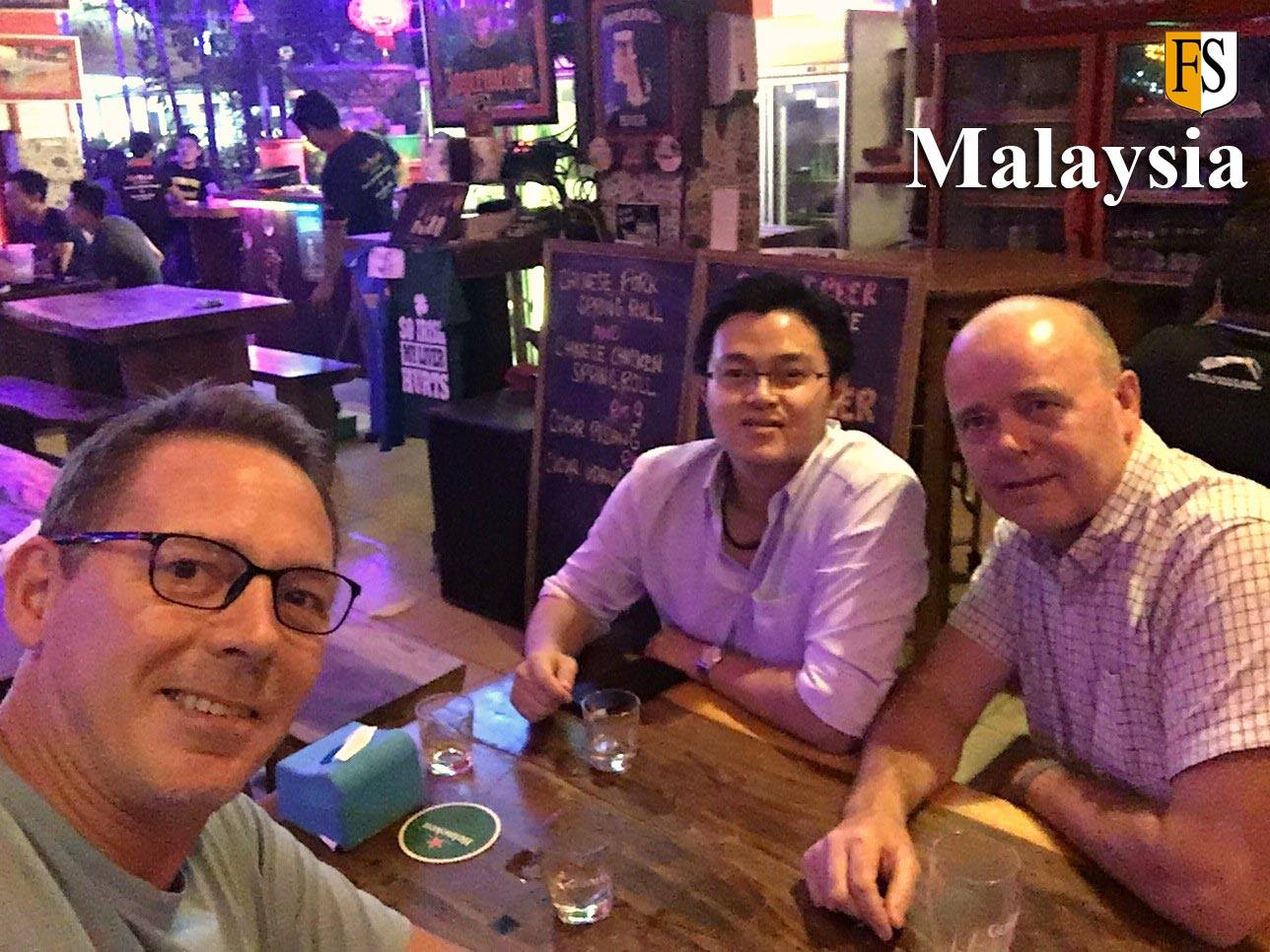 January 12: We have been traveling in Malaysia and Brunei this week. Dinner in Miri, Sarawak with our agent for Malaysia, Johhnes Lim, company Torr Energy.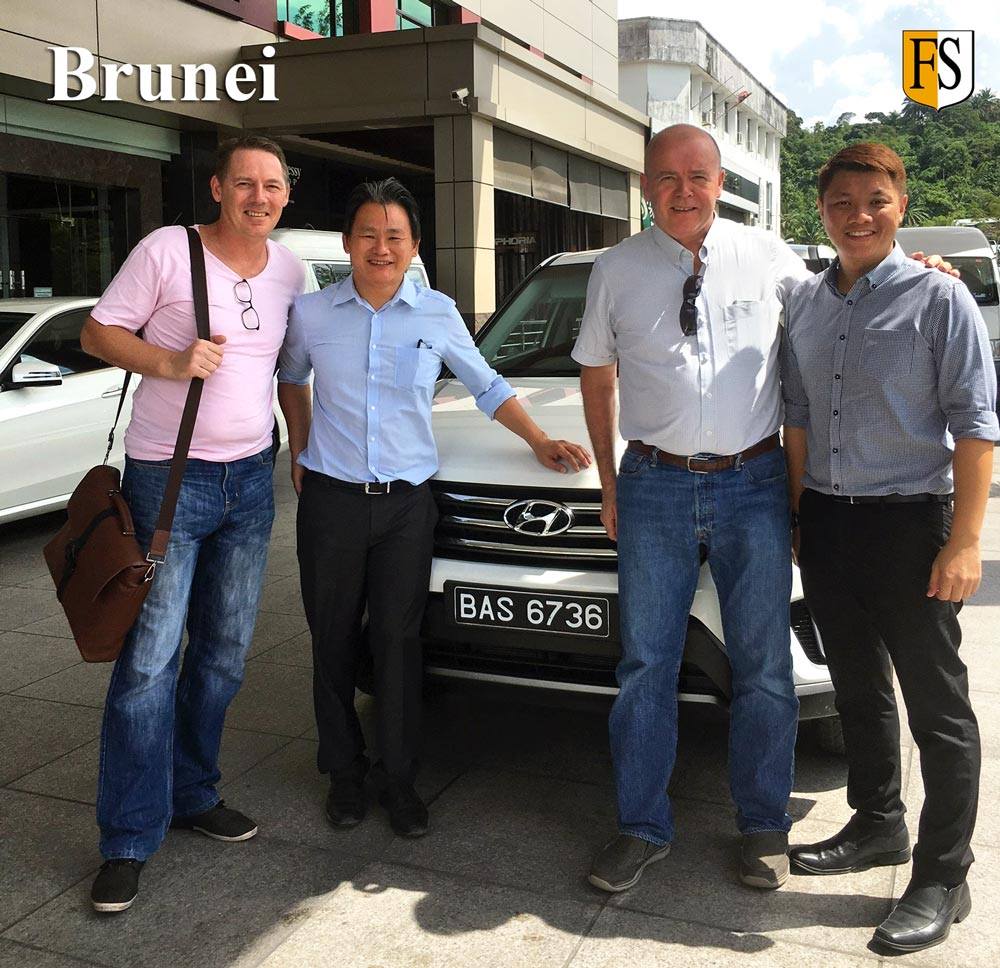 January 13: In Brunei this week we met to discuss new projects with our local agent PTT Engineering Sdn. Bhd. From left: Paal Mathisen (FS), KS Lau (PTT), Leif Harald Tveitnes (FS), TN Lim (PTT).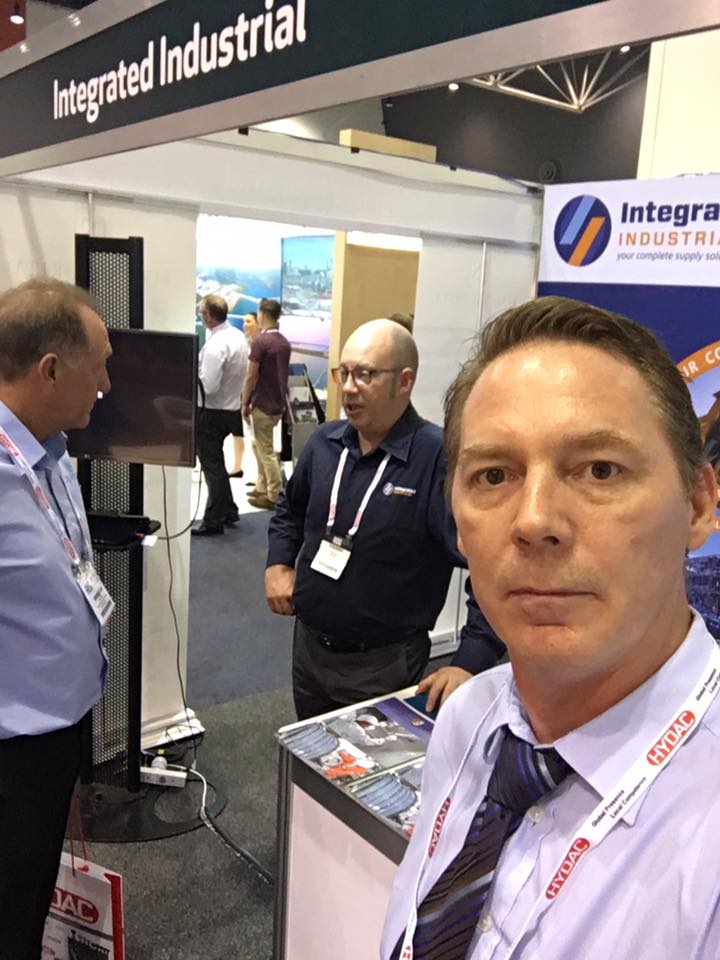 February 23: GOOD LUCK down under, mate! Paal Mathisen is our ASIA-PACIFIC manager with a busy travel schedule these days. This week he is in Perth for the Australasian Oil & Gas Exhibition.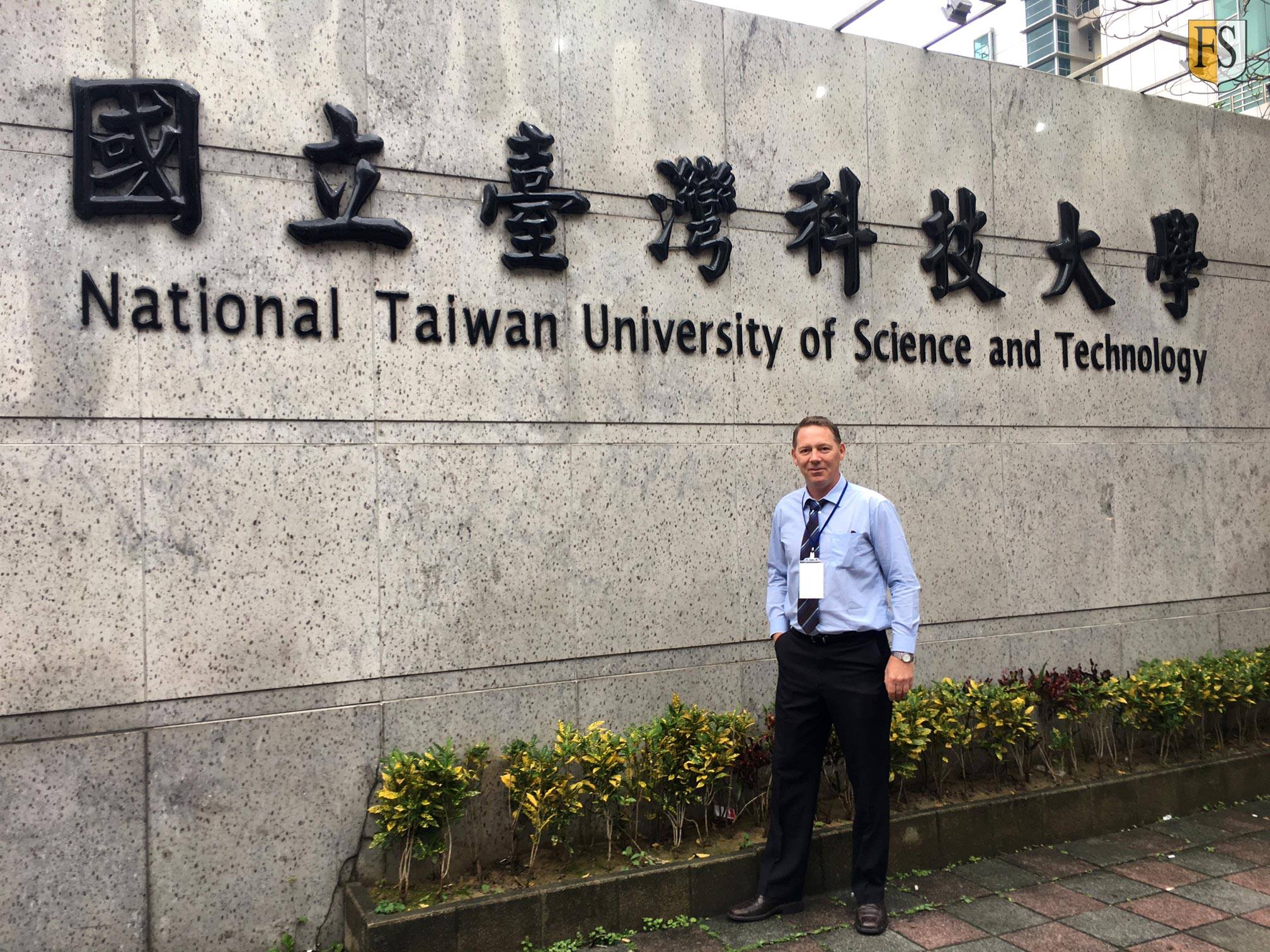 March 1: CONGRATULATIONS to Paal Mathisen, our Asia-Pacific manager, as he was a guest speaker today at a seminar about PASSIVE FIRE PROTECTION at the university in Taipei (Taiwan), speaking in front of 200 people from the fire protection industry and government.
March 27: VIETNAM here we come, or here I was last week to see if we can find a market for our cable protection systems in this country. We have done a few projects some years ago for Japan Vietnam Petroleum Corporation. The food manufacturing industry may also be a market for fire protection.
March 28: In HO CHI MINH CITY I met Jean-Christhophe Le Luet from our local partner VivaBlast Vietnam. Together we traveled to Hanoi to do a demo job for a mining company. They have problems with their cables mainly in the production area where they use highly corrosive chemicals. Read the story at our blog at fire-security.com/blog.
MIDDLE-EAST REGION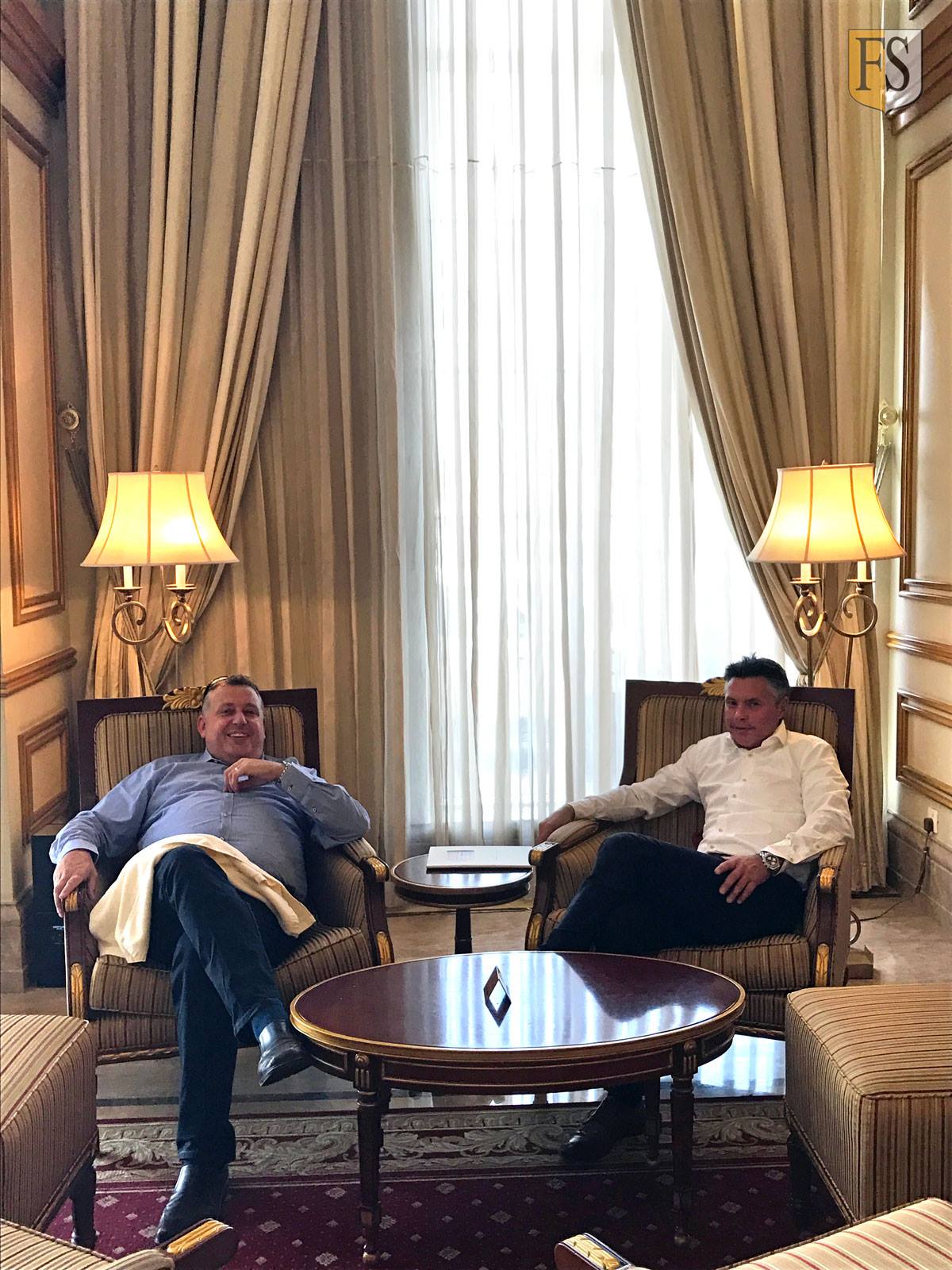 March 9: BUSINESS in BAHRAIN? Jesper Rexen and Ole Tom Eidjord waiting to meet Bahrain Steel in Bahrain.
March 13: BUSINESS as USUAL for our Chairman Ole Tom Eidjord and our Middle East Managing Partner Jesper Rexen. Last week they did a presentation tour talking about cable fire protection and repair, in 4 countries: UAE, Qatar, Bahrain, and Saudi Arabia. Here they are ready for a meeting with Nakilat in Qatar.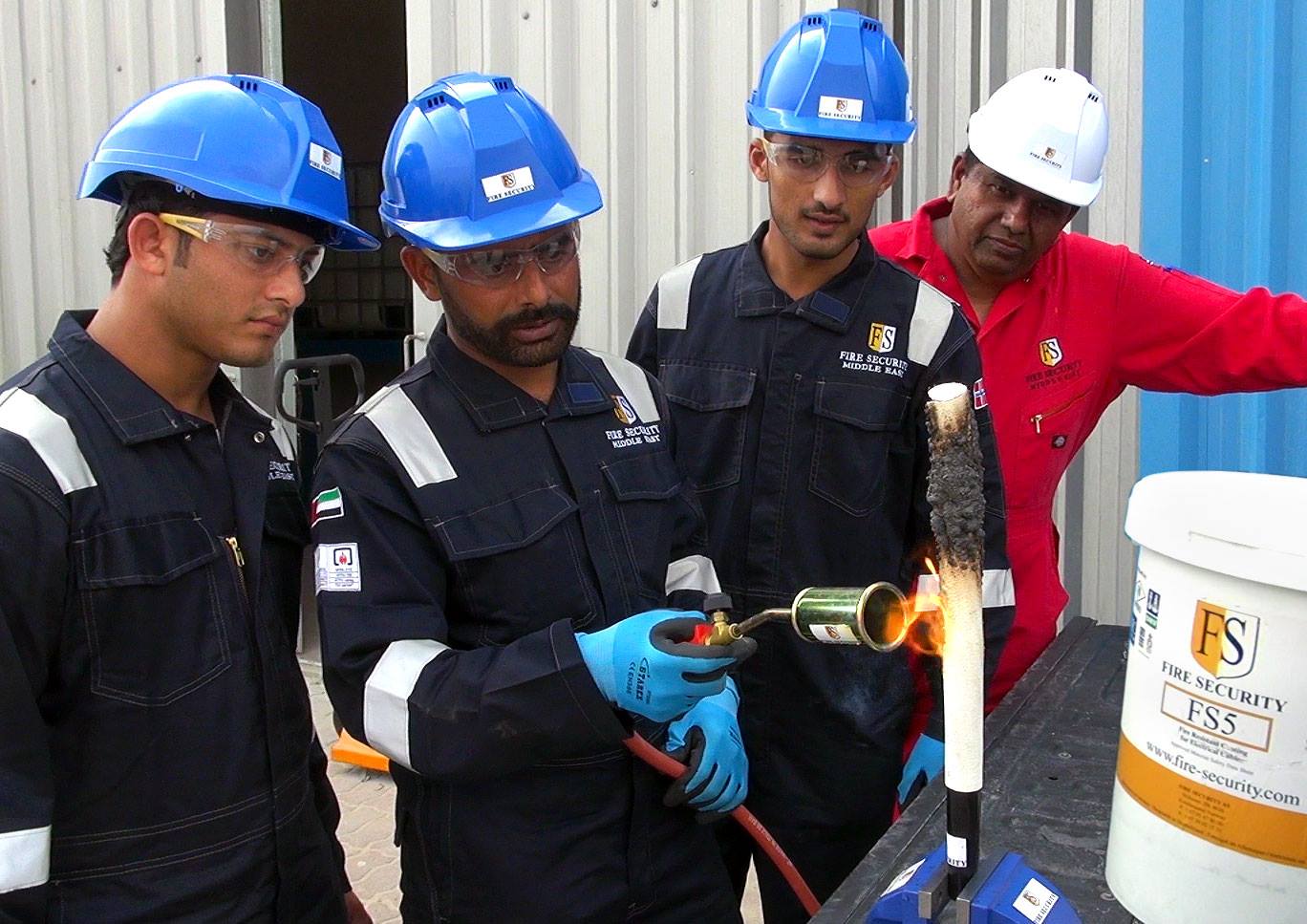 March 23: EXCITING as always, to see the outcome of a live fire demonstration. Members of our coating crew wanted to test what happens to a burning cable that has been coated with our FS5 fire paint. We reveal the result in a blog post next week. The demonstration was conducted at the Fire Security Middle East facility in Ajman.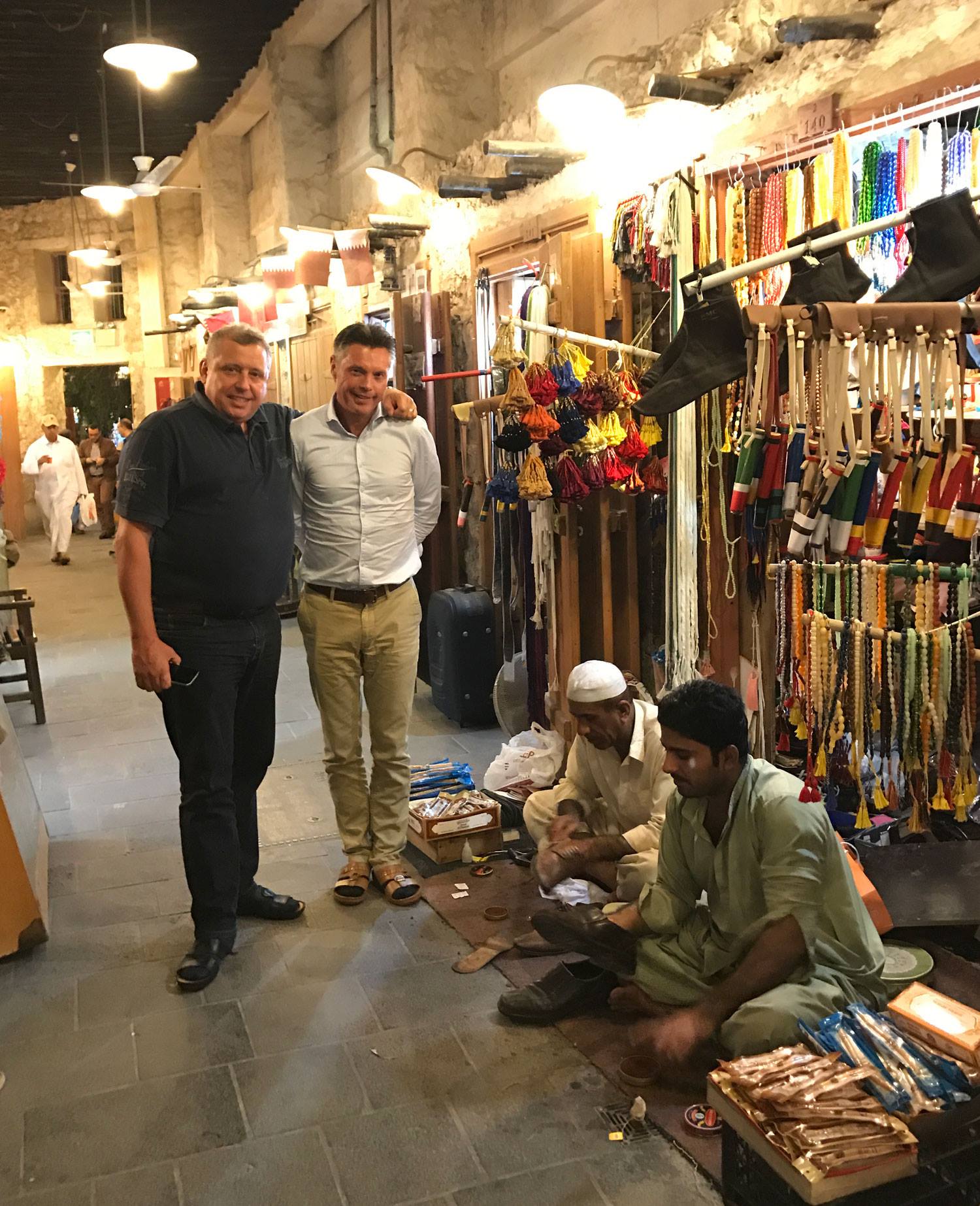 March 26: Jesper and Ole Tom in Qatar. After a long sales day, the shoes need to be polished. This photo was taken on their recent Middle East presentation tour.
March 30: WORLDWIDE operation symbolized by flags of the world at Fire Security Middle East office in Ajman. Jesper Rexen and his team offer cable repair and fire protection mainly in Dubai, Abu Dhabi, Oman, Qatar, Bahrain, and Saudi Arabia.
Headquarter in Norway
CRUISE SHIP PROJECTS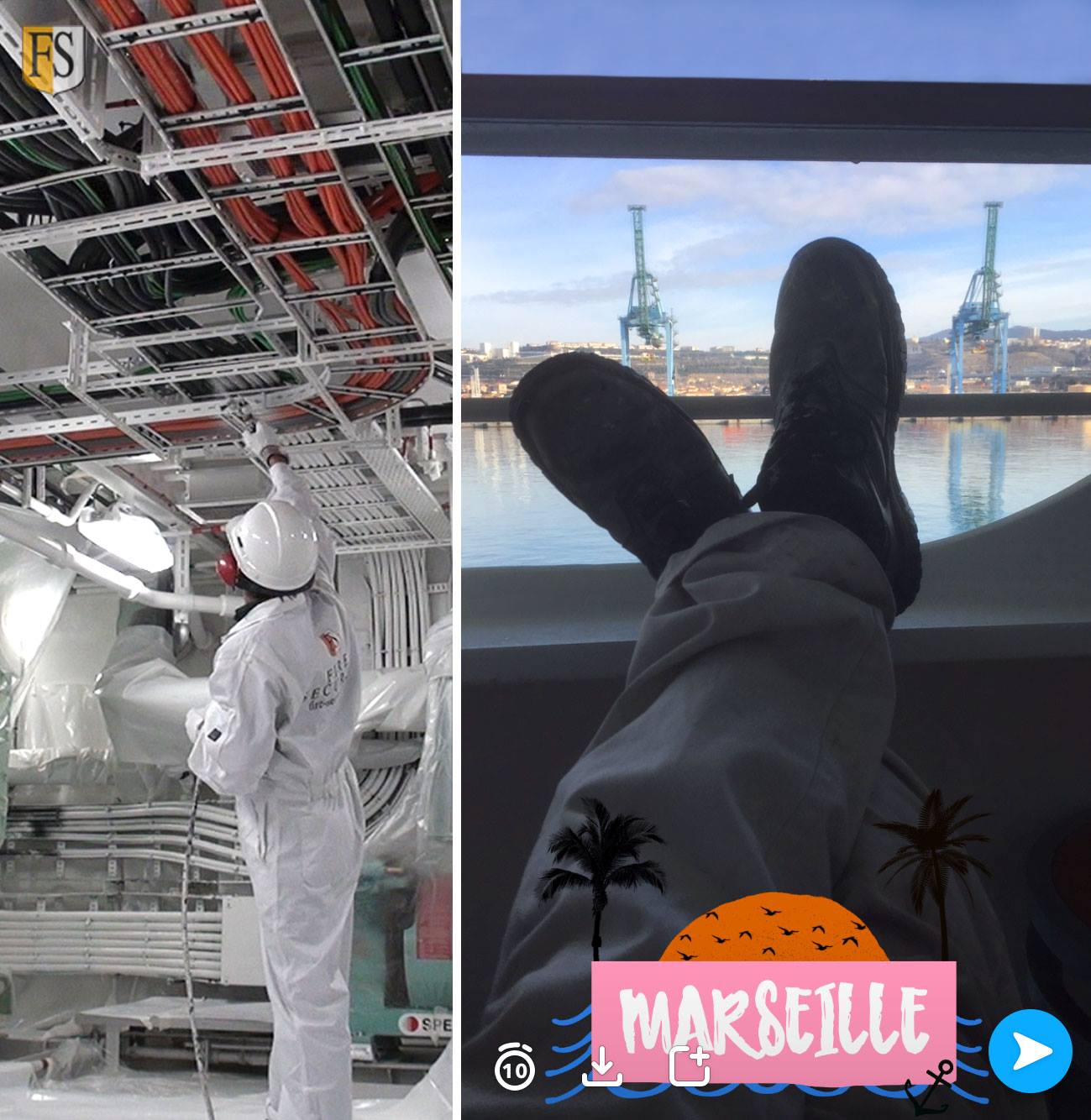 February 5: FS coating crew is busy doing cable fire protection on board the cruise ship Costa Diadema on passage from Italy via Marseille to Mallorca. Technical supervisor John Olav Ryen captured this moment at the Marseille harbour.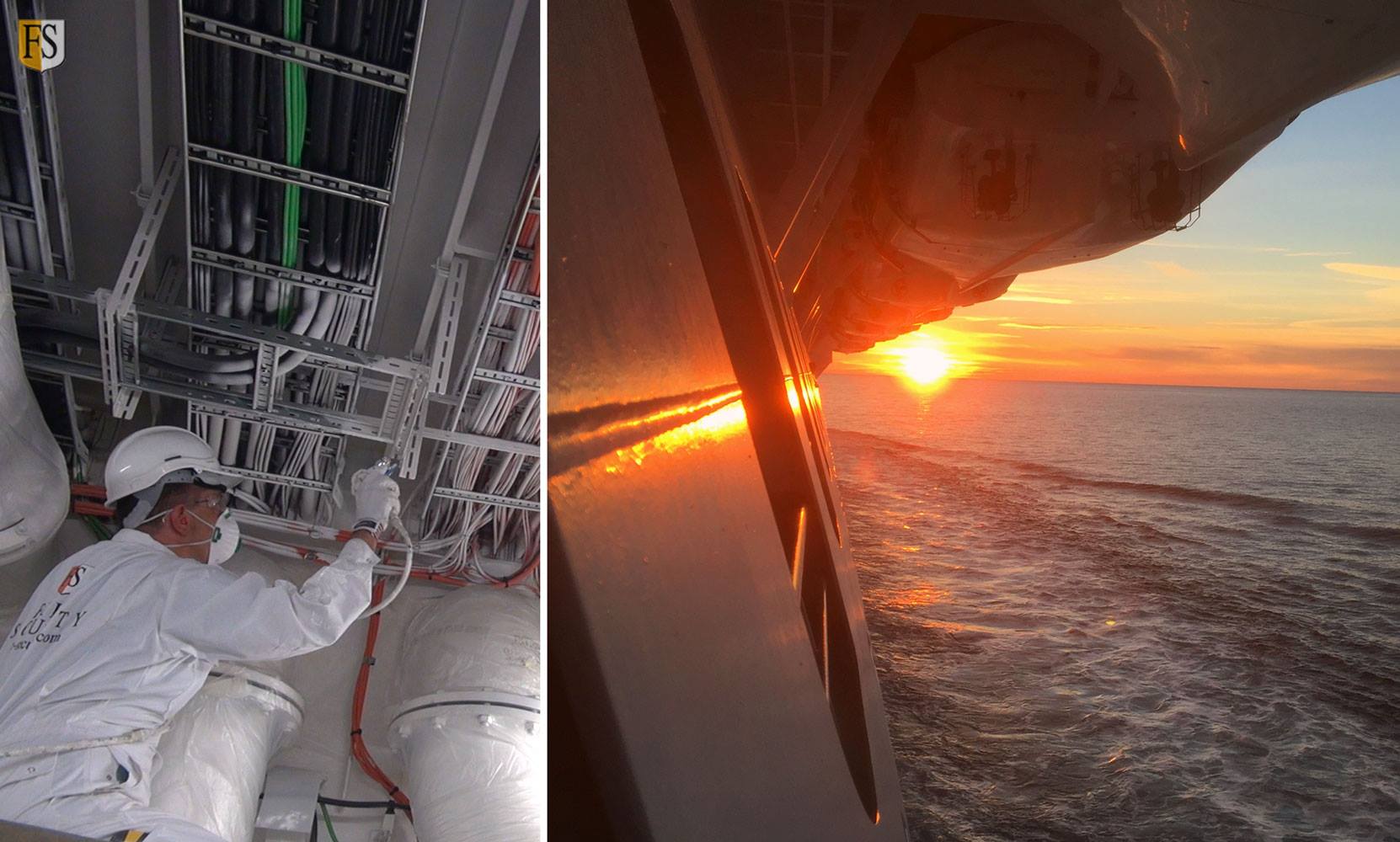 February 12: BUSINESS or PLEASURE? While cruise passengers enjoy their holiday, our coating team is busy downstairs in the machinery deck, coating cables for fire protection. Technical supervisor John Olav Ryen captured this moment onboard Costa Diadema on passage from Italy to Mallorca.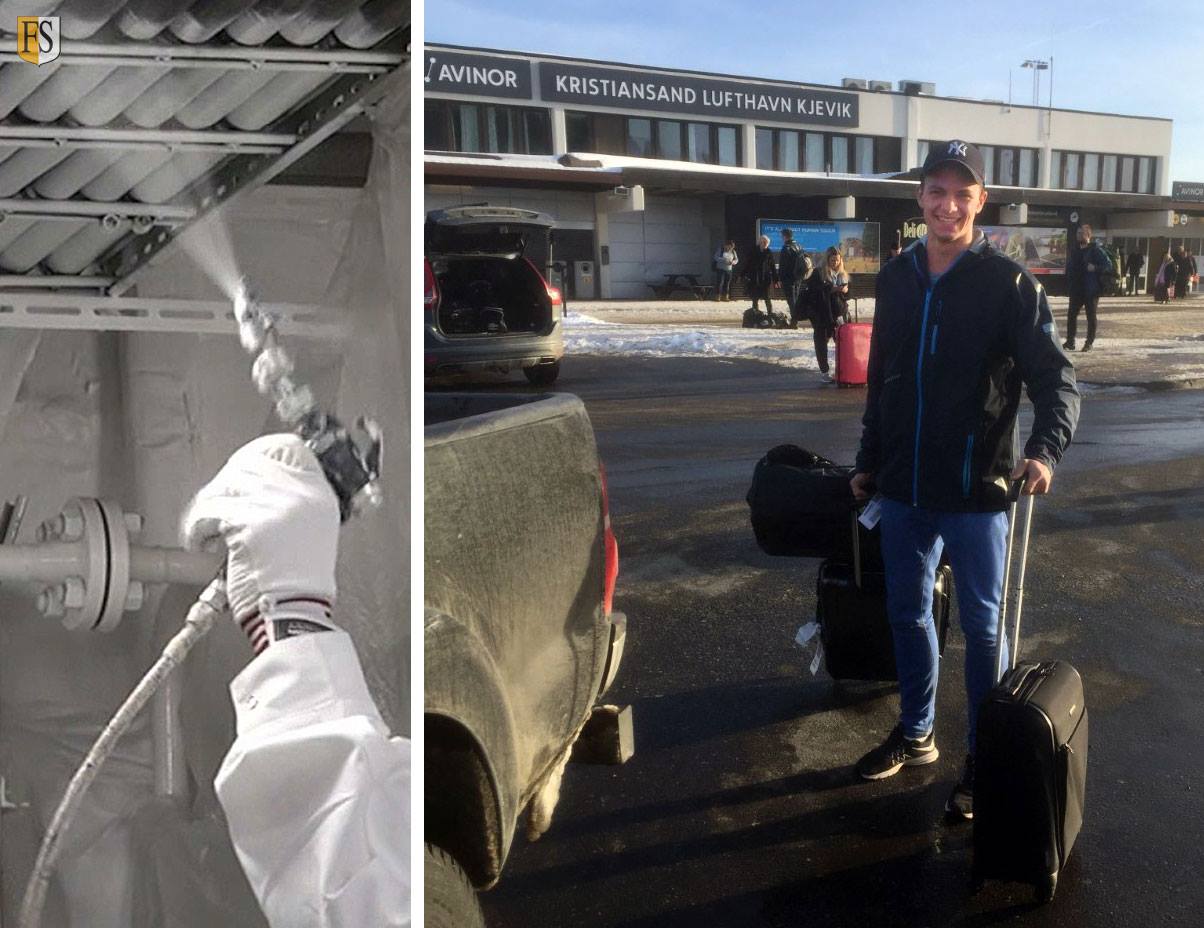 February 14: HOME SWEET HOME – FS technician Viktor Bjørkås arrives back in Norway after completing a successful cable coating project onboard Neo Classica for Costa Cruises. And HE DID IT ALONE!
March 7: PROTECTING a CRUISE SHIP. Supervisor John Olav Ryen is waiting for the final paperwork to be accepted. He and his crew will be starting the job to fire protect cables onboard Majestic Princess under construction at Monfalcone Shipyard in Italy.
March 12: HIGH FIVE. As the Sunday sun sets over Fincantieri shipyard in Monfalcone, Italy, Fire Security's coating crew is motivated to continue their work onboard Majestic Princess. By fire protecting electrical cables, we are making cruise travel safer for the public.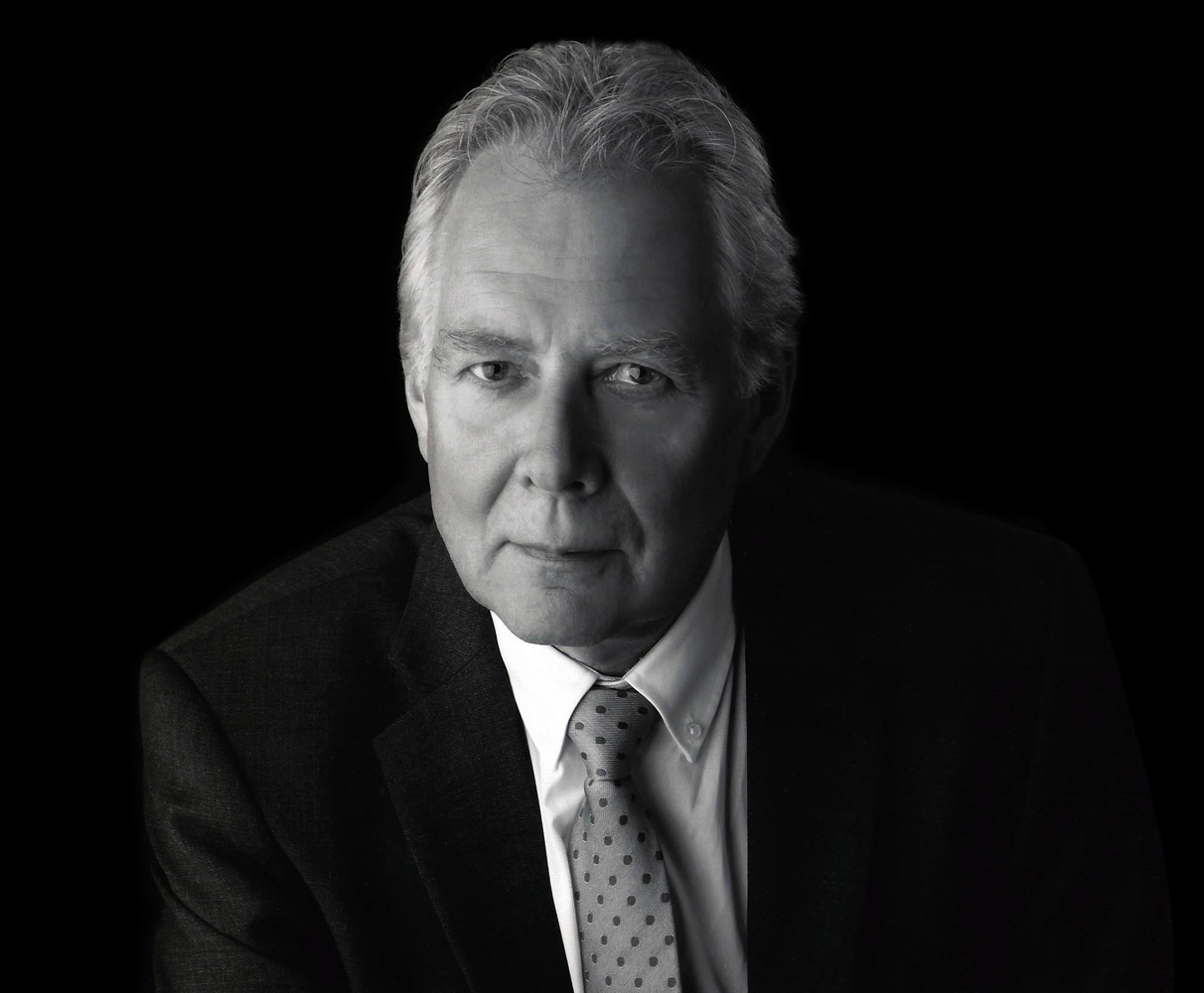 March 31: Fire Security Vice President Terje Waage is now on Linkedin. Together with our Chairman Ole Tom Eidjord, he founded the company some 30 years ago. Terje Waage is in charge of the cruise segment and our activities in Mexico and Brasil.