Fire Security presents highlights from our activities from April to June 2019.
Welcome to Fire Security's quarterly newsletter. This year we have seen an increased awareness of maintenance costs for electrical cables, both from the operators and from the insurance companies. Fire Security's cable life extension program fits well into this situation. Instead of costly cable replacements, we can offer repair of damaged cable sheats, and our FS5 coating will protect cables for many years against fire, smoke, mud, UV, ozone, and chemical damage.
As usual, we have conducted most of our projects in the Middle East and in the Asia Pacific region. We got a new agent in Vietnam, the company Vietnam Gre-Coating Engineering JSC (VGCE)  GCE.com.vn. We still have projects in Europe as well, both for cruise ships and even for an offshore wind farm. There is positive development also in the US market for fire protection and lifetime extension of electrical cables. For updated information and news, we invite you to follow us on Facebook and connect with us on Linkedin.
Wind Farm project offshore the Netherlands.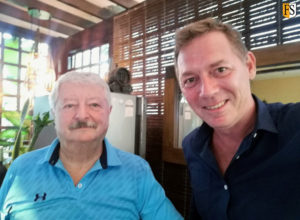 Welcome to our new agent in Vietnam, GCE.
April 8 – FS has just agreed with GCE and Mr. Stewart Bowker (owner) to become our new agent in Vietnam. We're looking forward to work with the company Vietnam Gre-Coating Engineering JSC (VGCE) based in Vung Tau City.
Fire protection of cables for the cruise industry.
On-site training and fire testing in Norway.
DNV – GL Business Assurance site audit.
Introducing FS cable lifetime extension in Egypt.
MCC Electrical Room Spray Application.
Cable fire protection at the substation.
FS Middle East conducting site surveys in Oman.
Cable survey on a cruise ship in Finland.
New alliances in Egypt.
Exciting projects in the Asia Pacific.
Fire Security Asia Pacific has had a very busy first half of 2019. We have successfully executed 12 projects in 5 different countries. Life extension of cables is becoming more and more of an issue for aging assets in this region. Recently FS has done a new UV aging test after Australian UV extremes, with a very positive result. This test was requested by one of the major O&G operators in Australia and it helps us develop further to improve our products and services to an industry that is focusing on the safety and durability of their electrical cables.
Shell is one of our main clients around the world and I am very pleased to say that we have executed 3 projects for Shell in the Asia Pacific already this year.
Steven Chong conducts a survey of Electrical Cables at Power Plant in Indonesia.
Cable coating at a processing plant in South Sumatra.
Cable fire protection for Lotte BP Chemicals.
Fire protection of cables in the MV distribution center.
Cable repair, lifetime extension, and fireproofing in Indonesia and South Korea.
Cable fire protection at the cement factory.
Life extension of electrical cables in South Korea.
Cable repair and life extension in Indonesia.
Visiting OGA in Malaysia with Nargis Petroleum.
DNV-GL Approved Cable Coating System.
Cable survey in Cambodia.