Safety and Health precautions in the pandemic
The safety and health of our entire workforce are more important than anything else. Steven Chong (right), Operation Manager of Fire Security Asia Pacific, conducts temperature checks of our team before entering the workplace at an industrial plant in Indonesia.
MIDDLE EAST
Pressure testing of equipment on our laydown area at Emirates Global Aluminum (EGA). Fire Security Middle East continues servicing its clients while complying with all client safety procedures.

THUMBS UP!
We finished fire protection of vital cables onboard the cruise ship Ponant Le Champlain. The attitude on board is optimistic despite the sailing restrictions, and everybody is looking forward to the vessel starting the engines and continuing sailing the seven seas once again. Marseille seaport is one of the largest in Europe. There are anchored more than 35 cruise vessels at this port alone for months at a time now during the pandemic.
CABLE RESTORATION
Arianto and Supriyono of Fire Security Indonesia underway delivering cable repair and restoration of UV damaged HV cables at an Industrial plant in Indonesia.
CABLE FIRE PROTECTION in GERMANY
MV Werften is located in Germany and has three branches based in Wismar, Rostock and Stralsund. Luxurious Polar expedition yachts to advanced cruise liners are built here. John Olaf Ryen carried out fire protection onboard and is now approved by DNV ship classification. The vessel Crystal Endeavor is built to PC6 polar class spec. She will explore the farthest reaches on earth. From Arctic to the Antarctic.
SOUTH KOREA
Our team has been 14 days in quarantine in Seoul before traveling to Yeosu for the first part of our cable project in 3 different petrochemical plants for the same customer. 
In the picture from left: Min-Yeong from Kangnam, Lukasz Grzenkowski (FS), client representative, and Piotr Kanczkowski (FS).
In our continuous work with protecting vital cables for the Korean petrochemical industry, we have today signed off from a 5 week project in 3 different plants for one of our customers. Well done by our specialists, Piotr (right) and Lukasz (left) together with our local representative, Kangnam Drive.
MAINTENANCE
Every springtime we do the outside cleanup at HQ. Norwegians call it "Dugnad", like a community effort or voluntary work. Although voluntary, you may risk some critics for not contributing. My "punishment" as a non-contributor was: Take the photo and write about the "Dugnad". From left: Julian, Jim, Ole Tom, Leif Harald and Henning.
ASIA and AUSTRALIA
Paal Mathisen reporting from ASIA: I have the pleasure of planning and starting up three projects in three different countries this week. It sure is good to feel busy again and a big thanks to our clients for pushing forward with our work for them. 
Good luck to Piotr Kanczkowski and Paul Filby who is traveling to Perth, Steven Chong and Lukasz to South Korea and not least our Indonesian team, supervised by Arianto and Supriyono who is traveling to do a cable life extension job for one of our main clients in Sumatra. Stay safe everyone.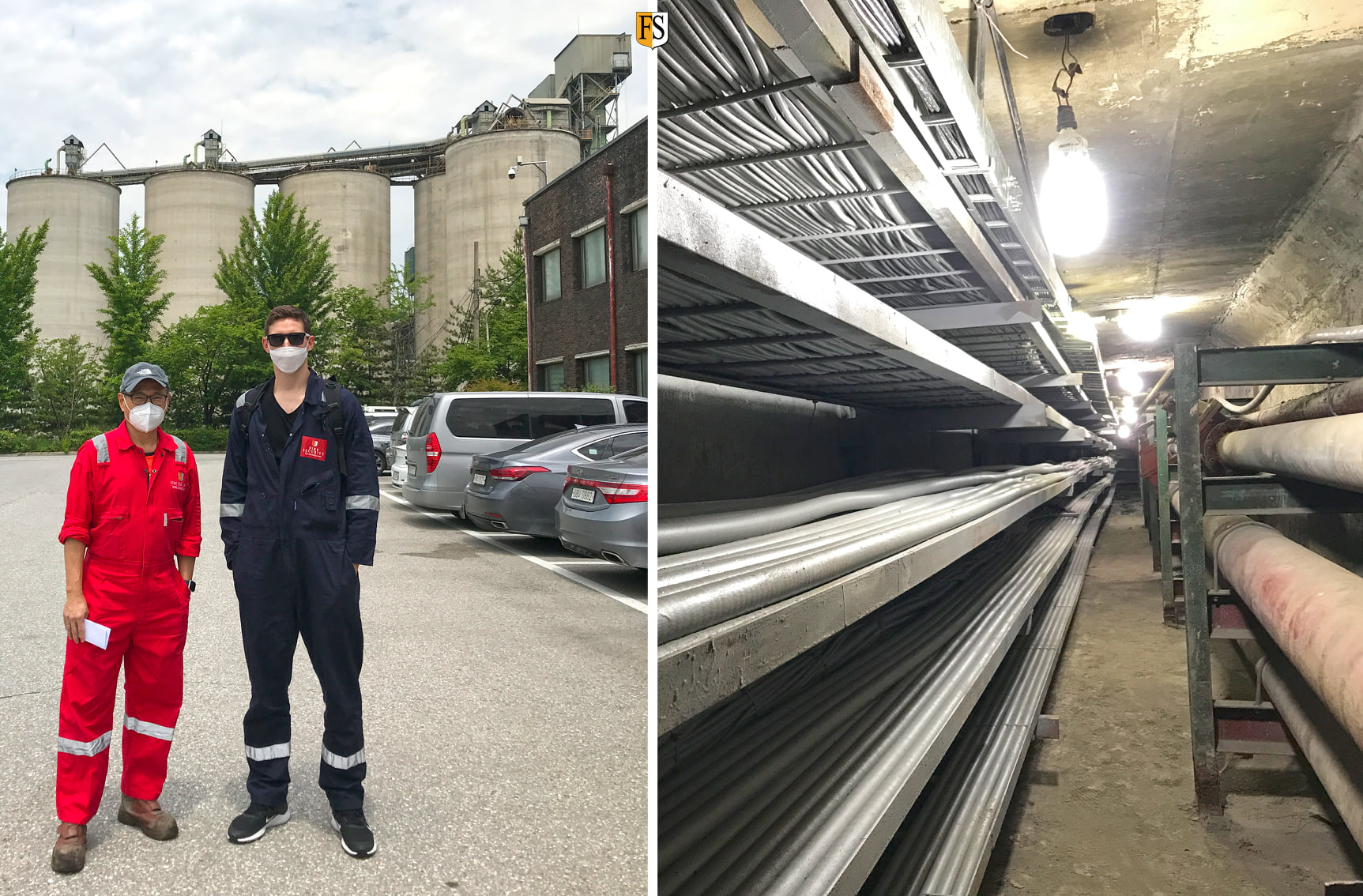 Fire Security Asia Pacific completed another preventive fire protection in underground cable tunnel for a cement plant in Korea. Steven Chong (L), Operation Manager of Fire Security Asia Pacific and Łukasz Grzenkowski, specialist applicator.
CABLE LIFE EXTENSION 
Offshore Western Australia
Paal Mathisen reporting: We have just finished a major offshore cable life extension job for one of our clients in WA. The work included lots of abseiling work for our technicians Paul Filby and Piotr Kanczkowski in challenging climate and strong wind off the coast of Karratha, WA. We are now getting ready for a second job in an LNG plant before moving offshore again for a third job on an FPSO. We are really pleased to get back-to-back work throughout our 3 months permitted stay in Australia.
USA Visit
Fire Security's management spent a refreshing but tough week in Washington D.C. at the Sea, Air & Space convention meeting prospective clients and business partners. From left: Leif Harald Tveitnes, Ole Tom Eidjord, Henning Eilert-Olsen, Terje Waage.
Hepburn and Sons LLC
(photo below)
It is an honor for Fire Security to work with Hepburn and Sons LLC, such experts in their field, as trusted advisors to the American maritime industry. Rick Hepburn, President and CEO of Hepburn and Sons LLC, gave all of Fire Security's representatives a signed copy of his latest book, "History of American Navy Ships of the Line, Lessons for the Navy Today.". His previous book titled "History of American Naval Dry Docks – A Key Ingredient to a Maritime Power" inspired a popular History Channel documentary.
In the picture, from left to right we have: Henning Eilert-Olsen, Ole Tom Eidjord, Richard D. Hepburn, PE CAPT, USN (Ret) President, CEO Hepburn and Sons LLC, Leif Harald Tveitnes, Michael H. Mayfield and Terje Waage.
FS strengthens the Board of Directors
Ole Tom Eidjord: I have the pleasure of announcing two new directors to our board in order to strengthen our global efforts in developing new opportunities for our company as well as streamlining our operations. 
Fire Security has a dominant position in the cruise industry as well as in land-based sectors. Today I can announce that FS solutions have been technically approved by The US Navy and our implementation efforts are proceeding in full strength together with our partners Hepburn and Sons LLC. 
Fire Security's owners and partners – Terje Waage, Leif Harald Tveitnes and myself – have for some time wanted to capitalize on our position in the Oil and Gas sector with regards to the repair and life extension of electrical cables where Fire Security has proven cost and time saving sustainable solutions. The two new board members with their extensive experience within Oil & Gas and other sectors will add considerable strength to the board in developing successful strategies to roll out Fire Security's sustainable solutions. As of October 1, 2021 Jon Erik Reinhardsen and Jan-Roger Olsen will join our board of directors. 
NAVAL DAMAGE CONTROL 2021
This week we attended the venue in Southampton to discuss and exchange information about safety at sea and how to manage the shift to automation, AI, and other new technologies. Photo: Julian Mintowt (left) – Operations Manager at FS Middle East and Terje Waage – FS Vice President.
SOUTHAMPTON
FS Technical Director Leif Harald Tveitnes presented sustainable solutions for cable management at Naval Damage Control 2021 hosted by Defence Leaders. FS has described its environmentally friendly solutions at several webinars, recently at NORWEP's "Asset Management Presentation for US, Brazil, Guyana, Mexico, Canada, and the UK." The paper was titled "UV Protection, Maintenance Repairs and Extension of Lifetime of Electrical & Control Cables" with the sustainable solution utilizing our approved FS5 cable repair and coating system.  Later this month, we are scheduled to present a paper on "Passive Fire Protection" at NORWEP's webinar on November 24 2021.

ADIPEC in ABU DHABI

The FS President Ole Tom Eidjord and Managing Director of FSME Jesper Rexen visit ADIPEC with Director Mohamed Al Tobi from Golden Gate Bridge, our agent in Oman. ADIPEC is the largest Oil & Gas conference globally, and we are meeting clients and our network of agents in the Middle East and North Africa.
FRANCE
John Olaf Ryen onboard the magnificent Le Dumont-d'Urville in Saint Malo, France. It was an honor for our crew to be personally invited by the Captain and Chief engineer on this Ponant cruise ship to enjoy a fine glass of French wine after completing the CABLE FIRE PROTECTION project on board. The Vessel is now ready to cross the Atlantic Ocean and startup cruise activity from Saint Lucia. Before disembarking, I asked the Captain why he had chosen this occupation. He replied, "You can never cross the ocean until you have courage enough to lose sight of the shore."
Paal Mathisen in France: I have wanted to visit Roubaix in the north of France for a long time, to see the finish of the famous bike race between Paris and Roubaix. This week I made it to Roubaix, and I got to visit one of the biggest data centers in Europe instead, so a big thanks to #OVHcloud for trusting us to advise and evaluate on improving fire safety in their assets.
NORWAY
FS Management gathering for the yearly Winter meetings in Norway. Paal Mathisen (left) manages the FS office in Indonesia, Ole Tom Eidjord, CEO, spends part of his time in Florida, Jesper Rexen is our Middle East Manager living in Dubai and Leif Harald Tveitnes, Technical Director, is home in Norway between travels, which is quite challenging at the current situation.
"BE INSPIRED." The writing on the wall did work. Positive yearly meetings at Headquarters in Norway were at our Advertising Agency 07 Media in Kristiansand. The focus for 2022 will be on our Environmentally Friendly Cable Maintenance, extending the service life of electrical cables.. Photo from left: Ole Tom Eidjord, CEO, Julian Mintowt, Paal Mathisen, Johnny Ryen, Jim Søllesvik and Leif Harald Tveitnes.