Fire Security presents cable repair and fire protection projects around the world, October-December 2018.
Fire Security conducts cable surveys, fire protection, and cable repair worldwide in many industries, whether on oil-rigs, LNG tankers, petrochemical refineries, cement factories, power plants, and more. For updated information and news, we invite you to follow us on Facebook and connect with us on Linkedin.
With kind regards from Mr. Leif Harald Tveitnes, President of Fire Security.
Visit to Brunei Gas Carriers and Brunei LNG with PTT Engineering.


October 26 – This week we have visited Brunei Gas Carriers and Brunei LNG. The global LNG market is growing and Brunei plays an essential part in the East Asian market. Life extension of their assets to ensure safe operation, steady production, and supply is important and FS provides a very cost-efficient solution for cable protection. Here together with our local agent in Brunei, PTT Engineering.
Business development meeting in Australia with ICS -International Corrosion Services.
Fire Security contributes to oil rig safety.
Naval Damage Control conference in Portsmouth.
Fire protection of industrial cables in the USA.
Fireproofing of cables on a reconstructed cruise ship.
Here is our new brochure for protecting cables on cruise ships and passenger ferries.
Completing our 15th year at Fire Security Middle East with style.
In addition to traditional projects within the offshore market, we have great success with the cable repair life extension and fire protection for LNG vessels and plants.  (BROCHURE)
We also experience an increased awareness on fire safety at industrial plants and our cable coating system is often the preferred solution to the demand for insurance driven fire protection.
Here are a few examples:
Protecting critical cables against high ambient temperatures at Emirates Global Aluminium.
At Siemens 400 kV Power Plant in Bahrain, we conducted the first 400 kV applications in Fire Security's history.
At Bahrain Steel, we are completing 3 major substation basements providing insurance-driven fire protection and we have replaced all the old penetrations with FS 21 panels and FS23 sealants being our second larger scope for penetrations in Bahrain.
At Alba Bahrain Aluminium new Line 6 project, we are delivering FS5 FM Global required fire protection and are also completing 1696 x 100 mm conduits and 848 x 50 mm conduits utilizing our FS20 Mortar and 48 wall openings utilizing FS21 panel and FS23 sealant.
Fire Security Middle East are proud to contribute to the fire safety for our clients, saving assets – saving cost – saving lives.
We offer on-site cable surveys with no commitment to the clients.
Protecting electrical cables on LNG vessels and plants.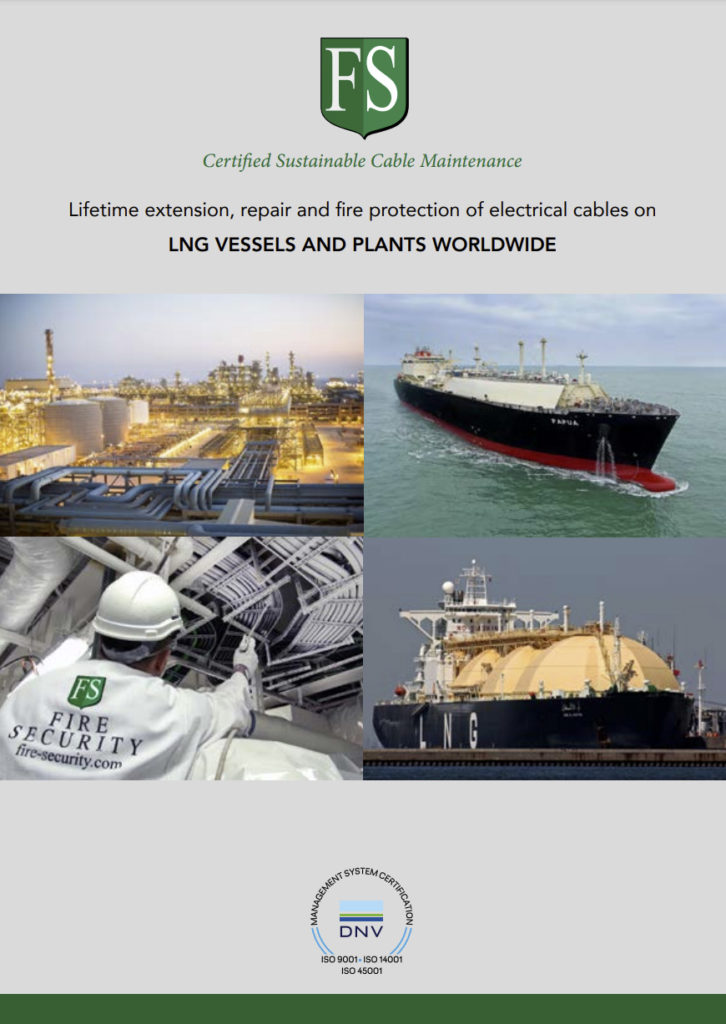 The Global LNG market is growing rapidly and the same goes for the fleet of LNG carriers. Fire Security Middle East has protected more than 20 LNG carriers since 2015.
Read more in our new LNG brochure.
[
We provide recommendations for protecting cables exposed to high temperatures in steel plants.
FS appoints Operation Manager for Asia-Pacific.
FS Middle East gets the job done – every time.
Exciting projects and prospects in Asia and Australia.
We experience very interesting times in the Asia Pacific with many completed projects and ongoing project planning in Australia, Indonesia, Malaysia, Brunei, China, and Korea.
At Fire Security, we are especially excited about Australia's oil & gas sector which we have visited frequently the last two years and are now starting to show good results.
We see that our solutions for life extension of electrical cables are getting more and more attention from our clients and their feedback gives us the motivation to keep on developing and improving our solutions.
Life extension of electrical cables both offshore and onshore in Western Australia.
FS presents cable protection and risk reduction at the Power Generation Technology Forum in Australia.
Cable survey on LNG vessel in China.
Cable life extension and fire protection for the oil&gas industry in Indonesia.
Sungshin Cement in South Korea to use our cable repair and life extension solution on the substation.
Cable survey for Petronas in Malaysia.
Repairing cracks on electrical and instrumental cables onboard Caribbean FLNG in China.
The 4th cable repair project at Hanil Cement.
Cable life extension project in Indonesia.
Cable survey on LNG carriers in Indonesia.
FS visiting energy companies in Western Australia.
Cable inspection at ConocoPhillips' LNG plant in Darwin Australia.
Another successful cable project with our agent in South Korea – Kangnam Drive Co., Ltd.