Fire Security's coating systems extend the lifetime of the cables at the same time to upgrade the cables fire technically. We conduct the work scope without any shutdown required, thus offering huge flexibility when maintaining or upgrading an existing installation. In the mid-1990's, we did our first lifetime extension projects. Mobil Oil company, now Exxon Mobil, had experienced outer sheath cracking on their asset in the North Sea, Lancelot, Guinevere, and Excalibur. Fire Security completed a successful cable life extension campaign of these cables in 1996.
When Perenco, in the year 2010, invited us to visit these platforms that were now a part of their asset portfolio, we were delighted to see how well the cable life extension program had worked. The cables that were experiencing cracking in 1996 and were treated by Fire Security were still (2010) in excellent condition.
Since then, Fire Security has performed numerous such projects for oil rigs, cement plants, paper mills, power plants, aluminum, and steel plants, always with results that exceed ours and the clients' expectations.
Fire Security's Class approved coating systems are perfect for repairs and environmental protection in high-risk areas in both offshore and land-based industries and lately on numerous LNG carriers and refineries.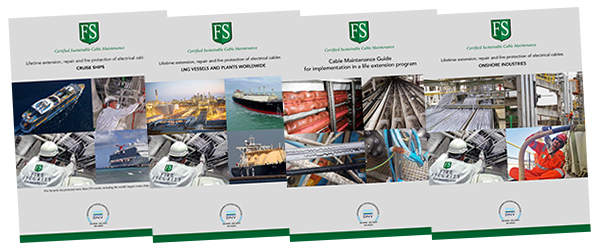 We conduct cable surveys with no commitments from your side.
We are always available for consultations with our experts if your company has assets that may outlive the cables normal lifetime or if the cables are aging prematurely. Fire Security offers to conduct surveys of cables in high-risk areas of your plant, after which we deliver a detailed report with suggestions to what we can do to extend the lifetime of vital cables, what you gain, and a price quote.
Read more on cable lifetime extension.
The FS program for extension of cables' operational life, consists of:
•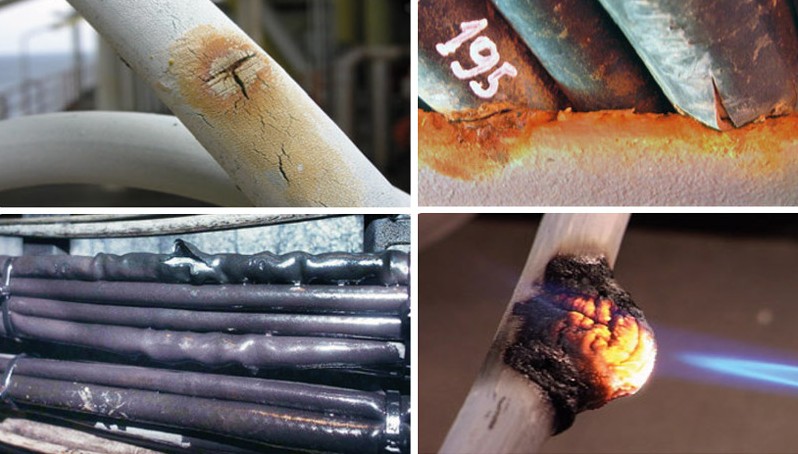 Ozone protection
• UV protection
• Increase of the dielectric strength
• Mud protection
• Oil protection
• Chemical protection
• Bring back, upgrade insulation properties
• Repair cables where the outer sheath is damaged
• Bring back, upgrade fire protection
• Upgrade cables smoke class
• Prevent short circuit in a fire situation
Cable repair is part of our lifetime extension program.
We offer cable repair and protection with our FS cable coating systems to all electrical cables at your unit, eliminating the need to change or reroute cables. Not only will our cable coating systems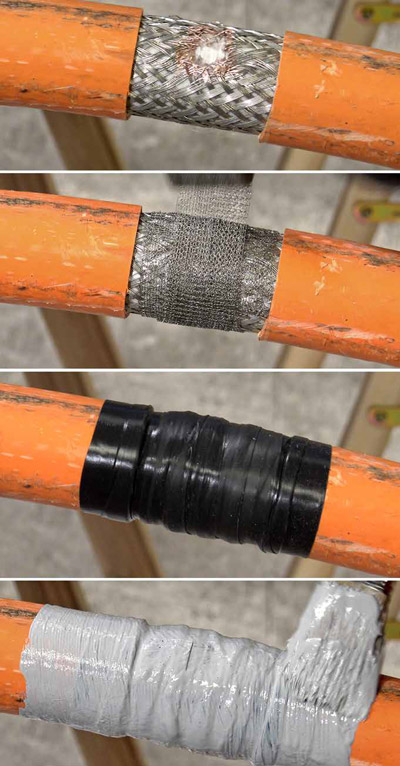 repair existing damage, but also prevent future damage to cable jackets.
Our cable coating system is unique: it can repair damaged cables and offer fire protection in one operation. Failing to repair damaged cables can leave your industrial plant severely impaired.
FS cable repair system fixes cable damages such as:
Cracks, UV damage, Oil, Mud, Water, and Mechanical Destruction.
FS coating system for cable repair, lifetime extension, and fire protection can save millions compared to replacing old cables. Read more about cable repair.
In a fire situation, our systems prevent:
• Ignition of the cable insulation.
• Release of toxic fumes from the cable insulation.
• Release of poisonous gas (HCL) from the cable insulation.
• The cable tray from melting and collapsing.
Contact Fire Security for a consultation or an onsite cable survey.